"London saw scenes of cinemas being shut down due spontaneous raves and crowd surfing..."
After nearly two decades of mind-blowing audiovisual live shows, Adam Smith took on the formidable task of encapsulating the electrifying experience of a Chemical Brothers concert for the very first time in this stunningly exhilarating film.
Captured at the 2011 Fuji Rock Festival in Japan, 'Don't Think' combines trademark hallucinogenic visuals and propulsive electronic sounds with the unmistakable euphoria of a live performance, to create a detailed portrait of the Chems' psychedelic spectacle.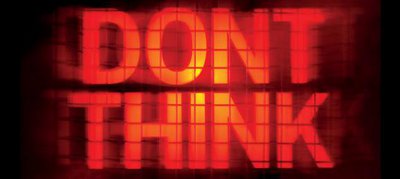 Without wasting any time on dialogue, Smith allows the music to speak for itself. Amidst the strobing lasers, billowing smoke machines, and surreal imagery, the duo work the crowd up into a frenzy with rave classics such as 'Swoon', 'Do it Again', 'Hey Boy Hey Girl', and 'Saturate', before finishing with 'Block Rockin' Beats'.
A live CD comes as standard with this Blu-Ray release, in addition to never-before-seen behind the scenes footage as well as an exclusive interview with Smith. This film has redefined the cinematic experience for music-based films and cannot be missed! (John Minard)
Blu-ray:
Junior Parker - Tomorrow Never Knows
Another World (Live from Japan)
Do it Again (Live from Japan)
Get Yourself High (Live from Japan)
Horse Power (Live from Japan)
Chemical Beats (Live from Japan)
Swoon (Live from Japan)
Star Guitar (Live from Japan)
Three Little Birdies Down Beats (Live from Japan)
Hey Boy Hey Girl (Live from Japan)
Don't Think (Live from Japan)
Out of Control (Live from Japan)
Setting Sun (Live from Japan)
It Doesn't Matter (Live from Japan)
Saturate (Live from Japan)
Believe (Live from Japan)
Escape Velocity / The Golden Path (Live from Japan)
Superflash (Live from Japan)
Leave Home / Galvanize (Live from Japan)
Block Rockin' Beats (Live from Japan) / End Credits
CD:
Another World / Do It Again / Get Yourself High (Live from Japan)
Horse Power / Chemical Beats (Live from Japan)
Swoon / Star Guitar (Live from Japan)
Three Little Birdies Down Beats / Hey Boy Hey Girl (Live from Japan)
Don't Think / Out Of Control / Setting Sun (Live from Japan)
Saturate (Live from Japan)
Believe (Live from Japan)
Escape Velocity / The Golden Path (Live from Japan)
Superflash (Live from Japan)
Leave Home / Galvanize (Live from Japan)
Block Rockin' Beats (Live from Japan)