After years of intense warfare against Eastern armies, Europe has become the last stand for the battered NATO forces. On the verge of being driven into the sea, NATO command embarks upon a most desperate measure. In the hope of seizing what seems to be a well-guarded military secret, Operation Magnitude is launched. A small group of Special Forces and Researchers are sent to a Mediterranean island deep behind enemy lines.
However, the mission is compromised and the task force destroyed, leaving Cpt. Scott Miller washed ashore upon the hostile island. In his effort to carry out the mission, he will face the dangers of modern warfare, an unforgiving environment, and the consequences of his own decisions...
Key Features:
Single-Player Campaign - Evolve from a lone prey into a military commander in the open-ended & story-driven campaign.
Vehicles & Weapons - Control a multitude of aircraft, vehicles and ships with accurate simulation; shoot anything from pistols to sophisticated weapon platforms.
Physical Simulation & Improved Animations - Take advantage of PhysX supported vehicle simulation, in-game interactions and the revamped animation system.
Rich & Authentic Environment – Explore.
Arma 3 Boot Camp Update
Arma 3 Bootcamp – a major new update for Arma 3, which delivers additional single- and multiplayer tutorials, a Virtual Reality training environment, a character- equipment- and weapons-viewer called Virtual Arsenal, refinements to the fatigue and weapon sway game mechanics, plus the anticipated add on integration for Arma 3's Steam Workshop. The update is further introduced in the new Arma 3 Bootcamp trailer.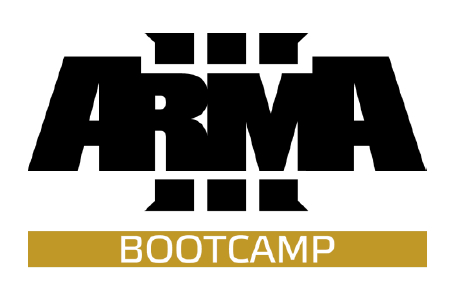 SP Bootcamp
The single player 'Bootcamp' mode is the best place to get started with Arma 3. Introducing the basic principles of infantry combat - actions, navigation, and weapon handling - a short prologue campaign challenges new players to complete real objectives.
MP Bootcamp
Multiplayer Bootcamp is a great way for veteran players to help newbies adapt to Arma 3. Offering a structured set of challenges for both trainees and instructors, MP Bootcamp uses the Zeus framework to give players the tools they need to create a tutorial on-the-fly.
VR Training
VR Training enables you to learn about basic game mechanics within the confines of a virtual world and practice without penalty. A variety of training topics focus upon individual gameplay elements, where players are guided to complete simple objectives with the support of contextual hints and tips.
Virtual Arsenal
Virtual Arsenal is a character, equipment and weapon viewer, which enables you to cycle through and try out in game assets, configure custom settings - such as identity types and insignia - and export load outs to script or used in Arma 3 Zeus scenarios.
In addition to the new content, Bohemia Interactive also took the opportunity to further refine the fatigue and weapon sway mechanics in Arma 3. Weapon Sway and Inertia is intended to simulate the inherent advantages that lighter and more compact firearms possess (particularly in CQB situations) as compared to relatively more cumbersome weapons.
For Arma 3, this means that players may turn as quickly as they like, but shouldn't expect their sights to line up dead on target if they are carrying heavier weapons. The improvements to the Fatigue system are related. While players will always be able to run, their rate of movement can now be limited based on the weight of their gear, their state of health, and the management of their stamina.